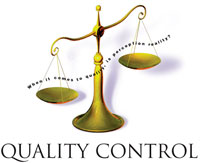 Saujanya Dyestuffs have got a well equipped laboratory which comprises of modern sophisticated machineries and Instruments. We believe in "NO COMPROMISE IN QUALITY".
We use best quality of raw materials which results into best quality end products. Every batch passes through stringent tests and each blends of different batches is tested once again so that best quality products is delivered. We also retain samples which are approved by our customer and we always test our new batch sample with that original sample so that right product reaches the customer. Our laboratory has capacity to produce customised quality of products also. We make our overseas buyer our long partners by providing them with best quality products.
We have a state of art testing facilities that includes computerized instruments like Spectrophotometer, Vibro Shaker, Automatic Muller, Automatic Film Applicator, Two roll mill with Hydrolic Press, Bead Mill, Triple Roll Mill.

R&D
Saujanya Dyestuffs is continuously engaged in developing better quality existing materials with better technologies which gives more outputs and with cost control being kept in mind. Our chemists are also engaged in developing new products.